We are in the climate emergency together.
The climate emergency is here, and UBC is committed to bringing our community together to confront this crisis. We are mobilizing around the community's urgent demand for climate justice and acting upon UBC's Climate Emergency Declaration and Task Force Report.
Most importantly, we must recognize that tackling the climate emergency as a university is not one unit's responsibility but requires collective responsibility and combined effort from the UBC community as a whole.
The Sustainability Hub is responsible for convening and coordinating people across UBC to make progress on the CETF report's recommendations.
Climate Emergency Week happened!
Discover all the events, workshops, and activities that we took on collective action for justice, people, and our planet.
First Progress Report on the Climate Emergency at UBC
The first progress review on the climate emergency at UBC since the Board of Governors and Senates unanimously endorsed in principle the Climate Emergency Task Force (CETF) report in early 2021. The Sustainability Hub is responsible for convening and coordinating people across UBC to make progress on the report's recommendations.
UBC's 9 Strategic Priorities
The Climate Emergency Task Force (CETF) report was formed in 2020 based on community input and engagement with over 3,900 students, staff, faculty, alumni, and community members. The 9 strategic priorities in the CETF report collectively highlight UBC's mutually reinforcing roles as a leader, enabler, and partner in addressing the climate crisis.
Climate Emergency Fund Recipients Share Back: UBC Climate Hub
The UBC Climate Hub is a student-led university-wide initiative that aims to connect and empower university and community stakeholders to take bold climate action for a just future. Join us in this Q and A with Meghan Wise and Lea Anderson from Climate Hub as they discuss the impact of the climate emergency on today's youth and how wellbeing is more important now than ever before.
Opinion: It's time to recognize that colonialism causes climate change – and repair our relationships
Op-Ed written by Dr. Shannon Waters, a member of Stz'uminus First Nation, a clinical assistant professor at the University of British Columbia, and a Medical Health Officer with Island Health, Vancouver Island Health Authority. As complicated and flawed as COP is, colonialism is now in summary documents that world leaders reference during their negotiations. I went to COP27 hoping we were a step closer to collective recognition.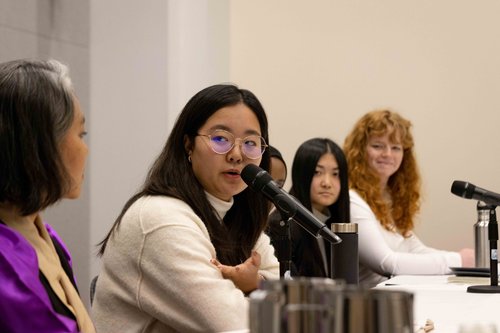 'One piece of the puzzle': UBC Sustainability Hub and SFU Sustainability host post-COP27 discussion
Led by SFU and UBC, a panel of COP27 delegates spoke in front of a diverse audience of students, faculty and climate enthusiasts about the implications of COP27. The panellists covered topics including agency, inequality and geographical bias.
Take Action
NEW 3-CREDIT SUMMER PROGRAM: Climate Justice Research Collaborative
Bringing together research opportunities, climate justice, mentorship, and community climate action, this program is an opportunity to gain credit while contributing to community resilience and climate justice! This program is for undergraduate students in any department at UBC.
Apply by March 19th
Summer WorkLearn positions are out now!
Summer 2023 WorkLearn positions are out now for UBC Vancouver students. There are more than 700 positions from a variety of faculties and departments for all experience levels!
Apply by March 26th
Ready to start a conversation?